Frequently Asked Questions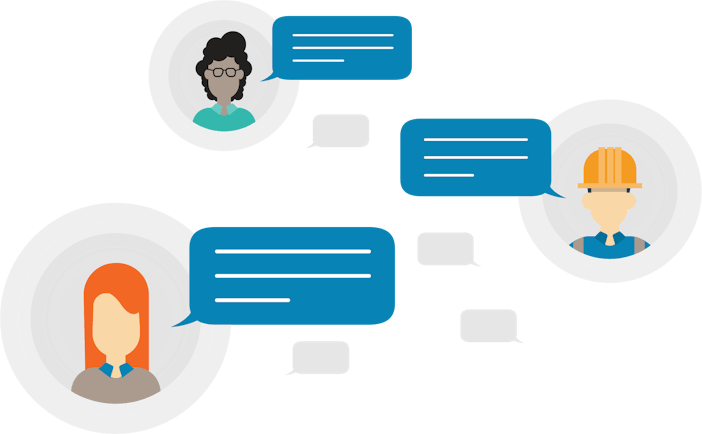 General questions
Contact tracing enables health authorities to connect with close contacts of individuals who have been exposed to a COVID-19 infected individual and isolate them, helping to break the chain of transmission of the virus. Because some people receive only minor symptoms from COVID-19 this is particularly important to prevent large clusters of cases developing which can quickly put pressure on health services in specific regions.
Managing a COVID-19 contact tracing programme in your organisation is a key way you can mitigate against the risk of a COVID-19 infection seriously impacting your operations. It brings several important benefits:
Firstly, you can monitor the health of your organisation and quickly react to any positive COVID-19 cases that should appear - reducing the likelihood of a wider outbreak in your team that severely impacts operations.
Secondly - and equally important - a thorough contact tracing and health monitoring programme will provide assurance to suppliers, customers and partners that you are safe to trade with during this period.
Finally, your contribution as an individual organisation will help the overall efforts of health authorities to get the pandemic under control and reduce the need for further lockdowns and restrictions on business activity.
Contact tracing is the process of collecting information on all of the people each employee has been in contact with each day. Obviously in large organisations this becomes a task that is near-impossible to manage manually. That is where contact tracing software and apps can help. Contact tracing apps help to automate some of this process of contact tracing collection - allowing workers and businesses to get on with their jobs.
Detailed information found here.
SaferMe's contact tracing solution for COVID-19 management is a complete solution that helps cover your business's contact tracing needs with three key elements:
Daily wellbeing check-in with workers - SaferMe's app provides a daily prompt to workers for them to fill a short two-question survey that helps you identify anyone who is not fit for work - or has a close contact infected with COVID-19, immediately. This up-to-date information is vital to helping respond to potential cases before they become an issue.
Manual contact tracing information collection - SaferMe enables workers to quickly and easily file notes about contact with workers outside your organisation who may not have the SaferMe app. This data collection is vital should someone later test positive.
Automated contact tracing - SaferMe's mobile location technology enables the background collection of data on worker locations. This data is stored on ISO-certified secure servers and is only accessed in the case where a positive COVID-19 case occurs. In this situation, SaferMe's technology maps all of the other workers whom the infected individual has had contact with in the relevant time period, enabling these workers to be notified and self-isolated to prevent further spread. The automation of this process saves workers significant amounts of time in noting all internal contacts they have on a day-to-day basis and enables your organisation to react with speed to any cases of the virus.
Yes. You have full control over what information is collected. If you wanted to implement WHO or CDC recommended questions you can do that.
SaferMe Functionality
Yes. Automatic logging is an extremely important step in your business having an accurate contact record for each employee – it will help you keep the right people safe quickly if symptoms occur.
Very flexible. You can add a variety of widgets, attach images or documents, and also include instructional text in the forms or even links to instructional documents.
You have the ability to assign team members a manager, or to assign external contractors to a new case. They will be alerted automatically via email or push notification.
No. We do not want to automate this functionality. We enable you to easily access contact details, so that you can reach out at a time that is right both for your business and your employees.
SaferMe can generate QR codes to put up on the wall at entry and exit points. This can be useful for "outsiders" to your business, to easily sign-in without downloading the app.
The contact table is generated when it is opened - so it is generated in real-time when the page loads.
Data, IT and Security
Only people you choose inside your organization. Typically this would be someone in the specific role of "contact tracer" - a human resources team member or someone from the safety team. The important thing is that it's not everyone, and you choose who it is.
We are software as a service. All data is securely stored to AWS hosted platform, so you don't need to worry about having your own servers.
We will store contact data for 42 days, however this standard is subject to change depending on what the latest research says on infection timelines and incubation periods. We avoid storing contact data for longer than required.

Your health attestation data is stored for as long as you require it to be.
SaferMe is software based. All you need to run the SaferMe app is a modern smartphone. There are no expensive beacons to install or wearable devices to purchase, however integration with these devices is possible if you do buy these in future.
The app is available in the Apple and Android stores. As part of your rollout we will work with you to craft your messaging. Both for your general communications, but also instructions for users to install the app via automated text or email. We work with you to tailor your rollout.
We use a combination of GPS and "bluetooth handshake" functionality.