Act before a positive test occurs with a simple daily survey

Provide assurance to team members
With a modern daily check-in system in place, you can show all your workers and customers the right duty of care.

Customizable and multi language
Easily create the unique survey questions you need to ask, or follow the best practice guidelines.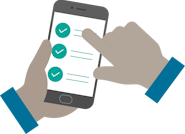 A health survey that is easy & fast
Quickly survey your workforce on their symptoms, ensuring healthy team members are dealing with customers.
The customizable health check-in will help you stop the spread
Use the SaferMe drag-and-drop form builder to create the screening questions your business needs to ask. Survey your team daily and visualise the location of symptom hot-spots. Take action early at the symptom stage, before a positive test impacts your business and puts your people at risk.